ASIS Cleveland MEETINGS: "...information and security perspectives you won't get anywhere else...in person"
Scroll down below for meeting and meeting details, current and past



ASIS Seminars & Exhibits - NOW ASIS Global Security Exchange
9/23 To 9/27, Las Vegas!
AWARD RESET now for 2019!


Local & dues-paid, ASIS Cleveland Chapter Members are eligible to win one
"All Access Pass" to The ASIS 64th Annual Seminar & Exhibits, Las Vegas!

SEE the 2018 Cleve. Chapter members winner, Kimberly Diemert,
plus multiple awards still active - WIN! See ASIS Rewards
________________________________________
NEXT MEETING: FRIDAY, September 21, 2018 Meeting



Location: Public Safety Training Center
TRI-C West, Parma

The Public Safety Training Center at TRI-C West, Parma, is an excellent space, easily accessible, west side location, with ample parking. Google it or Bing Maps or map/info
Times may change slightly as there is tentatively a tour, gun range, etc.

Networking 11:30 AM
Lunch 12:00 noon
Presentation Noon or a little after - 12:45 PM, 1 at latest
"...information and security perspectives you won't get anywhere else...in person"
Meeting fee is $20 and includes lunch: Members - If at all possible PLEASE REGISTER BY Monday of the week of the meeting, by noon - food must be ordered.
To register, send an email to asis.cleveland@gmail.com to say that you will attend.

Credit cards accepted ONLY IN ADVANCE on website at Dues-Payments page.

Guests: Members can register for guest, guest can pay for themselves or member can.

Option: pay at the door by check or cash. Checks: to Treasurer, ASIS Cleveland.
---
FRIDAY, MAY 18, 2018 Meeting

SPEAKERS & TOPIC: The Opioid Crisis (speaker's bios)

Lieutenant Michael Connelly (photo right) is a 28-year veteran of the Cleveland, Ohio Division of Police. He is currently the co-commander of the Northern Ohio Law Enforcement Task Force, and formerly Supervisor of the Narcotics Unit Major Investigation Squad,
Detective Scott Moran, (no photo of course) Undercover Drug Operations, with extensive experience and background. During the course of his career he has arrested 1000's for various drug law violations. In all of the cases he has presented for prosecution, he has never lost a case. He has received several awards including the Cleveland Police Medal of Honor.
REPORT:

---
APRIL 20, 2018 Meeting

Zina Martinez, Interim Director, North East Ohio Regional Fusion Center, and
Patrick Thomas, Intelligence Analyst, NEORFC - see BIOs below

Please Attend - Announcements & Business - Register Below
The NEORFC...
...anticipate and counter criminal activity, terrorism, and other hazards in coordination with the Ohio Fusion Center Network and the Intelligence Community.
Introduction to the Northeast Ohio Regional Fusion Center, history and mission

Suspicious activity reporting - Identifying, reporting, and receiving information

Intelligence Liaison Officer Program - How you and your agency can participate and benefit from this program

Q & A
BIO: Sergeant Sgt. Zina Martinez is the Interim Director of the Northeast Ohio Regional Fusion Center (NEORFC) in Ohio Homeland Security Region II which covers a five county area and is located in Cleveland, Ohio. She is responsible for the day to day operations, strategic planning, budgeting, grant management, outreach, and intelligence and information sharing functions of the Fusion Center. She is a member of the FBI Joint Terrorism Task Force Executive Committee and coordinates the Fusion Center Governance Board.
BIO: Patrick Thomas is an Intelligence Analyst with the NEORFC. He studied Accounting at Cleveland State University later earning a MA in Security Policy Studies from Notre Dame College in South Euclid Ohio. Patrick has been a staff analyst with the NEORFC for four years and has operated as an All-Hazards analyst working on criminal and national security matters. Patrick worked extensively on early warning intelligence in the lead up to the RNC, and participated in a multi-agency social media intelligence cell during the event. In his free time, Patrick enjoys volunteering at his church and providing, many times unsolicited, investment advice.
---
March 16, 2018
REPORT:

"Working abroad? The Department of State Can Help"
Security and Informational Resources from the U.S. Government
Special Agent Christopher Peltier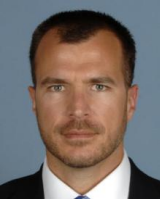 U.S. Department of State's Diplomatic Security Service

From the U.S. Embassy and the local chapter of the American Chamber of Commerce to the Overseas Security Advisory Council and Regional Security Office there are many resources available to individuals and companies working, living and traveling internationally. Special Agent Christopher Peltier will help navigate through these resources and provide context based on his experience advising international businesses and working in various countries around the world. Focusing on Security, Chris will discuss critical topics everyone needs to address before sending employees abroad.
Special Agent Christopher Peltier with the U.S. Department of State's Diplomatic Security Service provides a safe environment for the conduct of U.S. foreign policy. Chris has served in Africa, Asia, the Middle East, and Europe. Chris's experience includes touring the Niger Delta region with the U.S. Ambassador to Nigeria, Evacuating employees from Bahrain during the Arab Spring and eating Pierogi with the founder of modern Polish Democracy. As part of the lead U.S. law enforcement organization abroad, Chris protects U.S. diplomatic missions, U.S. diplomats, and visiting foreign dignitaries; conducts criminal, counter-terrorism, and counterintelligence investigations both domestically and abroad; advises U.S. ambassadors on security matters; and manages security programs worldwide.
________________________________________
Friday, FEBRUARY 16, 2018
"Sex Trafficking in Northeast Ohio"
Speakers:
Gregory Colbeck's Bio:

John Morgan's Bio:

"Ohio is one of the leaders in the U.S. in sex trafficking crime. It affects everyone."
Meeting notes, photos, etc., here:

______________________________________
FRIDAY, January 19, 2018 MEETING,

January SPEAKER & TOPIC: Meet and talk with...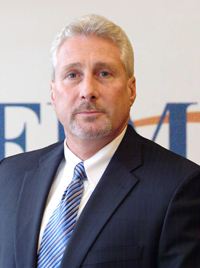 Rob Shuster
Vice President of Protective Services and Training




"Essential Best Practices for Workplace Violence Prevention and Management"
Introduction and objectives

Critical Mistakes that Organizations Make

Human Resources and Security- must work together

Developing Workplace Violence Policy – reasonable foreseeability

Defining Workplace Violence – categories of potential workplace violence

Employee Training - behavioral warning signs

Case Management Team - establish one and use them

Developing High Risk Termination Protocols

Third Party Assistance May Be Required

Proactive Measures and Response - preparation

Developing Specific Active Shooter Response Plans

Documentation of the Case Management Process
Meeting notes, photos, etc., here:

_______________________________
ASIS Akron Canton January 25th, cocktails, mixer, Cleveland invited! Click here:


[COMMENT/OBSERVATION: About 30 attended, some from ASIS Cleveland, well attended overall, many interesting people to meet, good to have time to talk, good contacts to have..]
__________________________________________________
FRIDAY, NOVEMBER 17, 2017 MEETING,

"...information and security perspectives you won't get anywhere else..."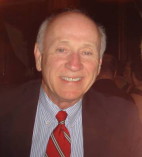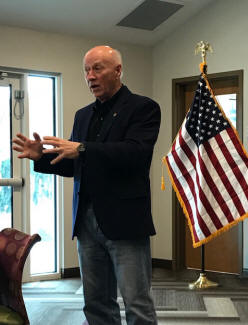 Questions that were answered...
What does it take to defend your guards (In-house or Contract) in litigation?
What is asked mostly in discovery about your guards or guard company?
What do plaintiffs attorneys and expert witnesses focus on about your guards?
Thomas J. Lekan, CPP
Security Consultant and Expert Witness
Security Guard Expert
http://www.security-guard-expert.com
(downloads or opens in new window)
Background, credentials, Tom Lekan, and see website for more:

"Liability and Security Guards:
Contract or In-house"
If you have security guards protecting your premises, or you are a security guard company, armed guards or not, or private police, this meeting was for you.."
Above, right: Tom makes point after point on how to avoid liability with case examples.
Comments:
"I'm so glad I attended this meeting. Great information. I'm going to review all post orders and other documentation."
"Informative, factual, and entertaining. He so obviously knows his stuff."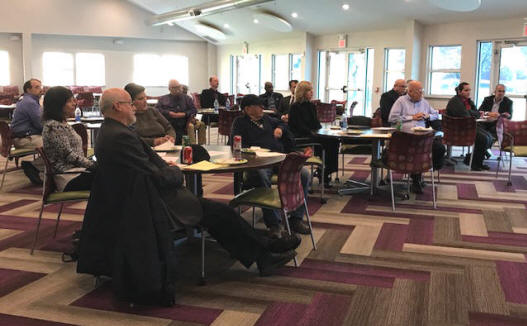 _______________________________________________________
FRIDAY, OCTOBER 20, 2017 MEETING,

"...information and security perspectives you won't get anywhere else..."

Meet Marvin Cross, Sr., CPP BIO:


Presentation on and discussion of:
"Security for High Profile Individuals and Organizations"
http://www.execsecuritygrpinc.com/

Executive Security Group, Inc. (formerly Security Director, the Cavaliers)
an ASIS Cleveland member, is the featured speaker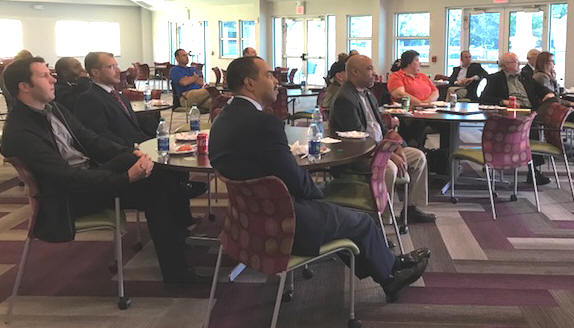 Members and guest listen carefully to Marvin Cross' interesting, informative talk.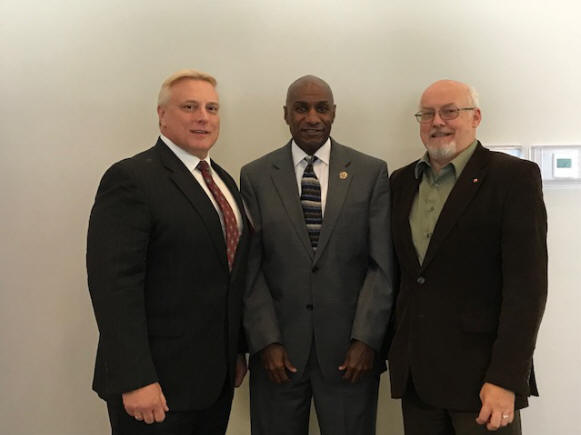 L to R: Peter Lucic, ASIS Regional VP; Marvin Cross, Speaker; Ray Heintel, '17 Chair
_______________________________________________________
SEPTEMBER 15, 2017 MEETING,
Downloadable file on Risk Assessment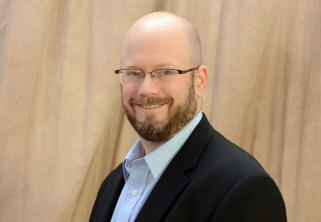 DATA SECURITY
InfoGPS provides single use (Audit) and continuous software as a service solution (Monitoring) that finds sensitive non-structured data (for instance, account numbers and data that have been downloaded into an Excel spreadsheet) and then allows the user to determine if they need to better protect the data, delete it, move it, etc. Many data breaches have an origin in this unstructured data as the transactional, enterprise systems and their data is usually pretty well secured.
Paul Hugenberg, Info GPS
Info GPS
http://www.infogpsnetworks.com/
___________________________________
MEETING INFO, MEMBERS NOTE:
Most meetings are the 3rd Friday - most months. See schedule at page top, left.
Format for most all meetings is as follows:

Networking 11:30 AM
Introduction: Noon, Chair opens meetings, introductions, announcements
Lunch 12:00 noon
Presentation Noon or a little after to about 12:45 PM, 1 at latest
Questions and answers
Certificate presentations, any closing business, announcements for the future
IMPORTANT NOTE: meeting information is generally posted shortly after being received. Comments or questions, please go to Contacts and email ASIS from there or telephone.
(if the webmaster has the info, it should be posted)
[ BACK to page TOP ]