CALENDAR page
_____________
General Meeting Info

Click camera for photos
ASIS Cleveland Events
EVENTS-DATES:
~ 2020 ~
January 17, 2020
Public Safety Training Center
TRI-C West, Parma
Hostage Situation
February 21, 2020
Public Safety Training Center
TRI-C West, Parma
Advanced Technology

March 20, 2020
Public Safety Training Center
TRI-C West, Parma
April 17, 2020
2nd Friday
Public Safety Training Center
TRI-C West, Parma
May 22, 2020
Public Safety Training Center
TRI-C West, Parma
________
Summer Break
_________
September 18, 2020
Public Safety Training Center
TRI-C West, Parma
October 16, 2020
Public Safety Training Center
TRI-C West, Parma
Nominate Officers 2020
November 20, 2020
Public Safety Training Center
TRI-C West, Parma
Vote Officers 2021
ASIS CLEVELAND
LOCAL DUES are DUE!
Joined? Late? If you haven't yet paid, click here for info and payment options
This page is:

CALENDAR
_____________
ASIS Cleveland MEETINGS: "...information and security perspectives you won't get anywhere else...in person"
Field Experts, Quality Presentations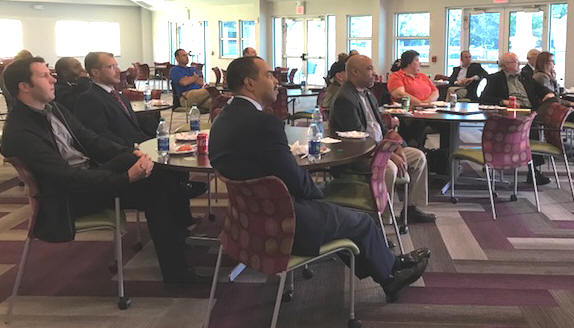 _____________________________________________________
2019 ASIS Seminars & Exhibits is NOW ASIS Global Security Exchange
Dues-paid, ASIS Cleve. Members can win awards: ASIS Rewards
ASIS Cleveland and Tri-C, Click here: Security Partnership

Please SCROLL DOWN
_______________________________
Febuary MEETING: Friday, Feb. 21, 2020 Meeting
3rd Friday


Location: KeyBank Public Safety Training Center
TRI-C West, Click here for MAP TO TRI-C
11000 W. Pleasant Valley Rd., Parma, OH
Networking 11:30 AM
Lunch 12:00 noon
Presentation Noon or a little after, ending about 12:45 PM, 1 at latest
Meeting fee for Regular Members is $20 and includes lunch; Security Students $10: If possible *PLEASE REGISTER by Monday, week of the meeting, by 12 - food must be ordered.
To register, send an email to asis.cleveland@gmail.com to say that you will attend.

Credit cards accepted ONLY IN ADVANCE on website at Dues-Payments page.

Guests: Members can register for guest, guest can pay themselves or by member.

Option: pay at the door by check or cash. Checks: to Treasurer, ASIS Cleveland

*IF YOU REGISTER AND DON'T COME, YOU OWE FOR LUNCH.
Speaker, Topic, & Meeting details: GREAT MEETING TO BRING A GUEST!
Topic: Advancements in Technology for Physical Security
Speakers: Michael Van Epps, Josh Mayle
Expert guest speakers on products and advancements for applications in: access control, closed circuit tv, communications, intercoms, emergency phones. This is a meeting not to miss. Guests of members welcome.
Michael Van Epps - Director of Sales, 911cellular.com
Michael is an experienced Director of Major Enterprise Accounts. His emphasis has been with the legal market as well as enterprise level corporation accounts. He has an extensive history of working in the information technology, ediscovery, cloud based applications, hardware/software, and solutions-based industry.

Michael will be discussing and demonstrating a mobile phone public safety application. This solution utilizes Wifi hotspots to locate users in a 3D world instead of just longitude and latitude.
Josh Mayle - Sales Engineer,
IPSecurity Reps ipsecurityreps.com

Josh established his industry knowledge as a security end-user in the K-12 market. Using his end-user security experience he transitioned into becoming a manufacturer representative for some of the largest security companies in the United States. ipsecurityreps.com
Josh will be discussing latest product developments in his product lines of Access Control, CCTV, Intercom, and Emergency Phones.
---
January MEETING: Friday, Jan. 17, 2020 Meeting

Speaker, Topic, & Meeting details:
"How to Survive a Hostage Situation"
by Garry Moneypenny


Photo, click the camera
<![if !vml]>
<![endif]>
When is the most dangerous time of a hostage event? What is going through the mind of the perpetrator? What are the Police doing? What will I be feeling and thinking? Should I talk to the perpetrator? Should I try to escape? What should I say or do?
Many questions will be answered by Garry Moneypenny, Retired Chief Deputy, a 37 year Law Enforcement Veteran who has handled numerous of these types of situations.
---
November MEETING: Friday, Nov. 15, 2019 Meeting



Photo, click the camera
Speaker, Topic, & Meeting details:
Hector Feliciano, ASAC
Assistant Special Agent in Charge
Homeland Security Investigations, Cleveland Office
"Securing the Homeland, an Overview of Homeland Security Investigations."
---
MEETING INFO, MEMBERS NOTE:
Most meetings are the 3rd Friday - most months. See schedule at page top, left.
Format for most all meetings is as follows:

Networking 11:30 AM
Introduction: Noon, Chair opens meetings, introductions, announcements
Lunch 12:00 noon
Presentation Noon or a little after to about 12:45 PM, 1 at latest
Questions and answers
Certificate presentations, any closing business, announcements for the future
IMPORTANT NOTE: meeting information is generally posted shortly after being received. Comments or questions, please go to Contacts and email ASIS from there or telephone.
(if the webmaster has the info, it should be posted)
[ BACK to page TOP ]