ASIS CLEVELAND MEETING - PRESENTATION CALENDAR

MEETINGS: "...information and security perspectives
you won't get anywhere else..."
Scroll down below for FUTURE events, meeting details, etc., and details of past meetings

9-23 to 9-27 ASIS Seminars and Exhibits - NOW ASIS Global Security Exchange
Local dues-paid, ASIS Cleveland Chapter Members are eligible to win an "All Access Pass" to The ASIS 64th Annual Seminar & Exhibits, September 23 - 27, Las Vegas

Cleveland Chapter members - You could WIN!
Estimated Registration Fee, ALL ACCESS PASS is $1,095.00
Your All Access Pass includes:
All education sessions in classrooms and on the expo floor

All four keynote addresses

Access to the Exhibit Hall on three days

Lunch on all four days

Ticket to the Opening Night Celebration on Sunday, and President's Reception

ASIS Happy Hour
Participate and Contribute to Win: By participating, attending local meetings, and significantly helping the chapter to grow and prosper in various ways, a FREE ACCESS PASS, worth about $1,095.00, to ASIS Global Security Exchange (Exhibits and Seminars) in Las Vegas could be yours. The Cleveland Officers will award one to one member. Other awards are under discussion. And even if you don't win the big one, you'll win by participating!

NOTE: NOT INCLUDED in the Pass: air fare, lodging
FRIDAY, January 19, 2018 MEETING,

Jan SPEAKER & TOPIC: Meet and talk with...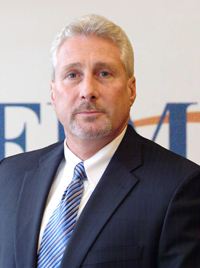 Rob Shuster
Vice President of Protective Services and Training




"Essential Best Practices for Workplace Violence Prevention and Management"
Introduction and objectives

Critical Mistakes that Organizations Make

Human Resources and Security- must work together

Developing Workplace Violence Policy – reasonable foreseeability

Defining Workplace Violence – categories of potential workplace violence

Employee Training - behavioral warning signs

Case Management Team - establish one and use them

Developing High Risk Termination Protocols

Third Party Assistance May Be Required

Proactive Measures and Response - preparation

Developing Specific Active Shooter Response Plans

Documentation of the Case Management Process
Click here for more info and how to register, plus, on the HOME PAGE
__________________________________________________
FRIDAY, NOVEMBER 17, 2017 MEETING,

"...information and security perspectives you won't get anywhere else..."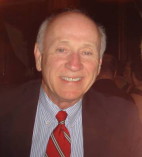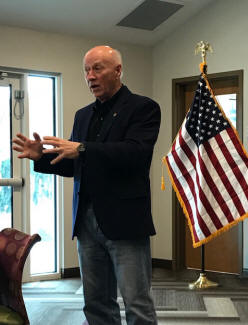 Questions that got answered...
What does it take to defend your guards (In-house or Contract) in litigation?

What is asked mostly in discovery about your guards or guard company?

What do plaintiffs attorneys and expert witnesses focus on about your guards?
Thomas J. Lekan, CPP
Security Consultant and Expert Witness
Security Guard Expert
Background, credentials, Tom Lekan:

"Liability and Security Guards:
Contract or In-house"
If you have security guards protecting your premises, or you are a security guard company, armed guards or not, or private police, this meeting was for you.."
Above, right: Tom makes point after point on how to avoid liability with case examples.
Comments:
"I'm so glad I attended this meeting. Great information. I'm going to review all post orders and other documentation."
"Informative, factual, and entertaining. He so obviously knows his stuff."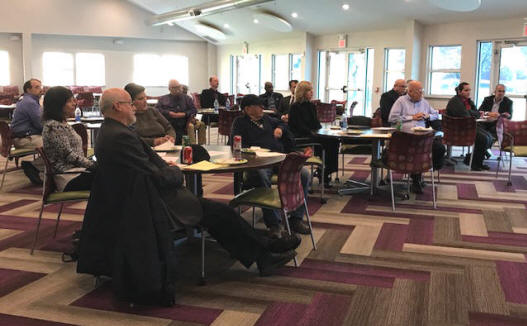 _______________________________________________________
FRIDAY, OCTOBER 20, 2017 MEETING,

"...information and security perspectives you won't get anywhere else..."

Meet Marvin Cross, Sr., CPP BIO:


Presentation on and discussion of:
"Security for High Profile Individuals and Organizations"

Executive Security Group, Inc. (formerly Security Director, the Cavaliers)
an ASIS Cleveland member, is the featured speaker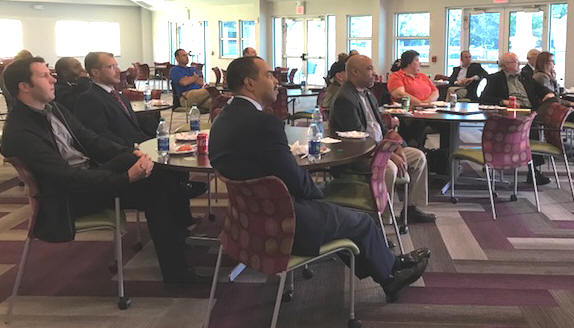 Members and guest listen carefully to Marvin Cross' interesting, informative talk.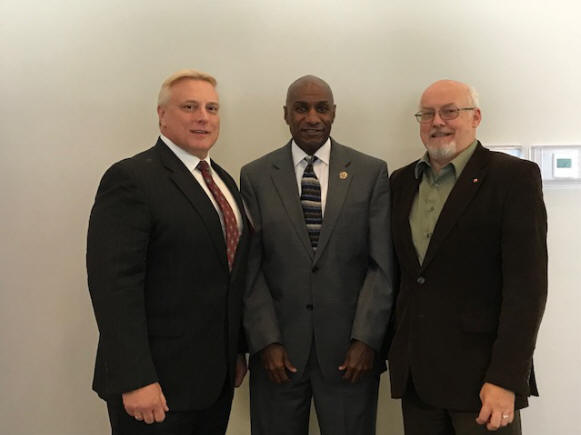 L to R: Peter Lucic, Reg. VP; Marvin Cross, Speaker; Ray Heintel, Chair
_______________________________________________________
SEPTEMBER 15, 2017 MEETING,
Downloadable file on Risk Assessment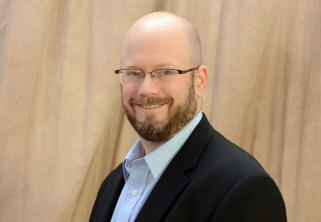 InfoGPS provides single use (Audit) and continuous software as a service solution (Monitoring) that finds sensitive non-structured data (for instance, account numbers and data that have been downloaded into an Excel spreadsheet) and then allows the user to determine if they need to better protect the data, delete it, move it, etc. Many data breaches have an origin in this unstructured data as the transactional, enterprise systems and their data is usually pretty well secured.
Paul Hugenberg, Info GPS
IMPORTANT NOTE: Should information not appear here on the next meeting,
go to Contacts and email ASIS from there or telephone.
(if the webmaster has the info, it is posted)
[ BACK to page TOP ]