Posted: 3-20-2019 with link on 4-1-19 AVAILABLE
Security Systems Engineer

The posting is here: https://www.jewishcleveland.org/jobs/physical_security_systems_engineer/. If people are interested in applying they should send their information to careers@jcfcleve.org<mailto:careers@jcfcleve.org
Posted: 2-18-2019 AVAILABLE, Multiple positions

JEWISH FEDERATION OF CLEVELAND HIRING FULL/PART TIME SECURITY OFFICERS
The Jewish Federation of Cleveland through JFC Security LLC, is looking to hire current or former law enforcement personnel as armed security officers to work full or part time security work at several of our Jewish facilities in the Cleveland area. Health/Vacation/Sick time benefits will be available dependent upon the number of hours worked.
Interested candidates should fill out the attached application (BELOW) and forward with a resume to Keith Winebrenner at Kwinebrenner@jcfcleve.org .
Any questions please contact Keith at (216) 593-2929.
PLEASE SEE ALL DOCUMENTS BEFORE APPLYING, APPLICATION BELOW:

(PDFs download or open in new window)
Security Guard:

Sec. Guard Preschools Synagogues:

Application:

---
Posted: 9-29-2018 NO LONGER AVAILABLE
Position: Security Specialist

Glenn Research Center
Vacancy Announcement Number: GR18C0107 (status) and GR18D0073 (U.S. citizens.
Opening Date: September 24, 2018
Closing Date: October 9, 208
Grade: GS-13
Salary: $90,814 - $118,059
Duty Location: Cleveland, Ohio
Organization: Code CX/Office of Protective Services
Bargaining Unit: No
http://www.usajobs.gov/GetJob/ViewDetails/511728200 (open to status candidates)
http://www.usajobs.gov/GetJob/ViewDetails/511728300 (open to all U.S. Citizens)
1. NEW ITEM 6-20-2018: Job opportunity, NWOSS
Security Technician

2. NEW ITEM 5-14-2018: Job opportunity, Cleveland, KeyBank
FILLED 6-15 DO NOT INQUIRE Integration Manager Role, new position
Seniority Level: Mid-Senior level
3. NEW ITEM 3-15-18: Job opportunity, Business Development, Cleveland
Contacted as FILLED 6-15 DO NOT INQUIRE

(Downloads or opens in new window)
Tri-C Private Security Training Program: Training Program
or view below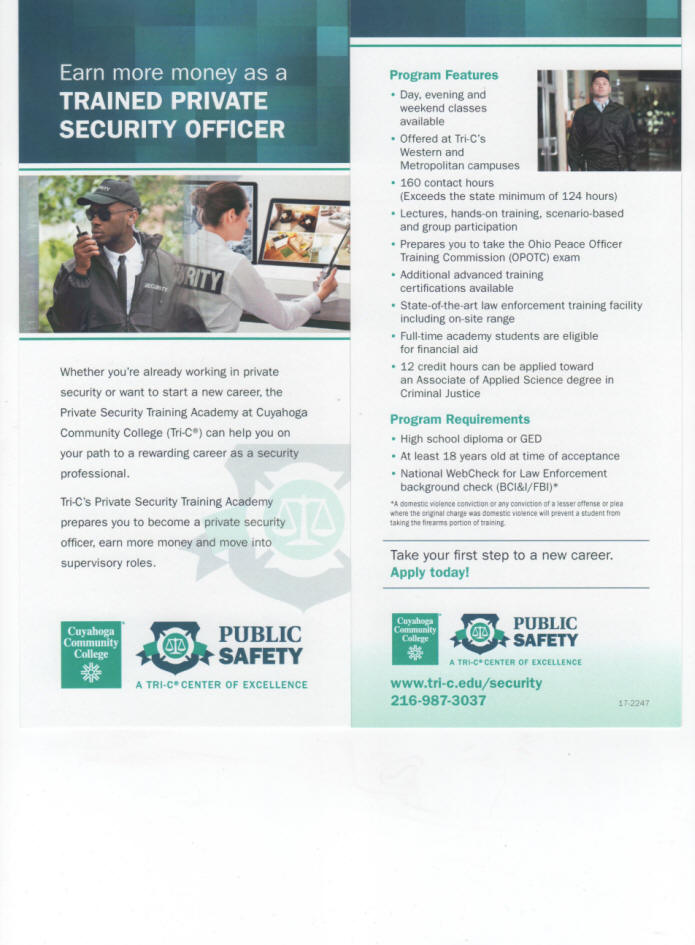 [ BACK to page TOP ]