This page is:
Website Advertising & Sponsors
ASIS CLEVELAND LOCAL DUES are DUE! Joined? Late? If you haven't yet paid, click here for info, an invoice, and payment options > Local Dues

Website Advertising to Security Industry in Cleveland, NE Ohio
Website Sponsorship Advertising & Rates

Award-winning website,
www.ASIS-Cleveland.com
2006 Website of the Year Award
2007 Website of the Year Award
2009 Website of the Year Award
2011 Website of the Year Award
2012 Website of the Year Award
2013 Website of the Year Award
2014 Website of the Year Award




Numbers, Quality: While visits do vary, in general we average hundreds of unique visits and repeat visits (not "hits" and not robots - actual, single visitors) to this website, per month, 1000's and thousands per year. Members and others. A special niche, this is not about huge numbers, but is about quality, about who visits and why... more, including ad rates and order form, contact below:
Why advertise? Why sponsor this website? Exposure and reinforcing your brand - and when they are searching, you're there!

If professional security in NE Ohio is important to you as a market, or those people who are interested in and looking for a security vendor are important, this is the place they visit; this is the place they converge. Security pros, those looking for security vendors, business people, etc.

Last month: 530 unique visitors, over 1200 visits with repeat visits, 3.65 pages average per visit, 3.23 minutes per visit average, 3907 page views.

Go to Google and type in to search any of the following terms: [security NE Ohio ] [professional security NE Ohio ] [ professional security cleveland ohio ] etc. You should find this website number one or on the first page. Period.

What are you buying? Exposure. When 50 people visit a page and your ad is on the top or side of that page, you ad is seen, consciously or unconsciously, and that is an "exposure" of your name, logo, company, services. Ads are hyperlinked to your website, and you should get visits, but you are buying exposure.

A CENTRAL TENET: No one visits a website and spends significant time there where they don't have a serious interest in the subject (do you? Isn't your answer "No"?) - in this case, security.

Website Ad & Sponsorship Rates and Additional Information:

If you don't have an ad or ads, we can provide custom, professionally done ads for you to IAB specs. For rates and further information contact Don Calderwood, Hawkeye Services, ASIS Cleveland Webmaster: Call me and discuss your interest. I'll send you a rate card, program details, and all that you need. We'll help you design a "program" that fits your objectives, using multiple ads in key locations economically over time, and that delivers long term benefits.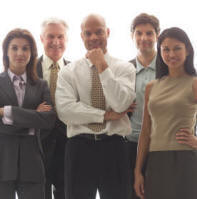 Phone Don Calderwood, Webmaster, ASIS Cleveland: 440-352-0393
Email

Support Professional Security
Sponsorship and advertising revenues assist members in meeting important security initiatives

Support the chapter as a vehicle to meet the organizational objectives of the membership

Support the ASIS Cleveland Mission: Advancing Security in Northeast Ohio

Support actions and activities that are primarily educational in nature, as well information sharing and linkages between members and others

Support ASIS Cleveland as it interfaces with public and private organizations with concerns regarding security, public safety, emergency response, business continuity, terrorism and civil disaster, pandemics, etc.

Importance of Financial Support: The ASIS Cleveland Chapter is and must necessarily be self-sustaining, self-supporting from its actions and activities. Dues paid to ASIS International do not support the chapter operations. Local dues are minimal, by design, to not place blocks to membership growth. Therefore, sponsorship and advertising become central to sustain member and chapter efforts and programs.

Applicable to all advertising and sponsorship - Acceptance: ASIS Cleveland reserves the right to reject advertising deemed unsuitable to the professional security community, or from organizations that are deemed to be in conflict with the aims, purposes, or objectives of ASIS Cleveland. No Endorsement. Acceptance or display of advertising carries no endorsement or implication of endorsement of an organization, its products, or its services by ASIS Cleveland, nor of its officers or members. Please inquire if you have questions.